"I want to be a researcher someday." "I didn't think I'd grow to like fungi before!"
These were the reactions of some of the children after joining Bio Adventure activity, the free science experiment program offered by Kyowa Kirin. For 20 years, the program had opened the door to a world of wonder for many children. We talked to Kyoko Takeuchi and Yukari Natsume, the staffs in charge of planning and managing the Bio Adventure (Machida) School in Tokyo.
*A science experiment program mainly for elementary school up to high school students, Bio Adventure serves as the arm of Kyowa Kirin for fostering the next generation, opening communications about the corporate group business strengths, and building trust and affinity with the wider community. This Bio Adventure activities are managed primarily by in-house staff at their research laboratories or plants in Machida(Tokyo), Takasaki(Gunma), Nagaizumi(Shizuoka), and Ube(Yamaguchi) in Japan.
Our initial goal was to stop children from moving away from science
Bio Adventure began as a program at the Tokyo Research Park in Machida City, Tokyo in 2000.
"The problem of children moving away from science came up while we were brainstorming on our social programs. To try to address this, we started a program on science experiments, Bio Adventure, under the cooperation with Machida City Board of Education.
Under this project, we organize and hold a variety of programs, from events open to young children to full-fledged experiments in levels geared toward high school students."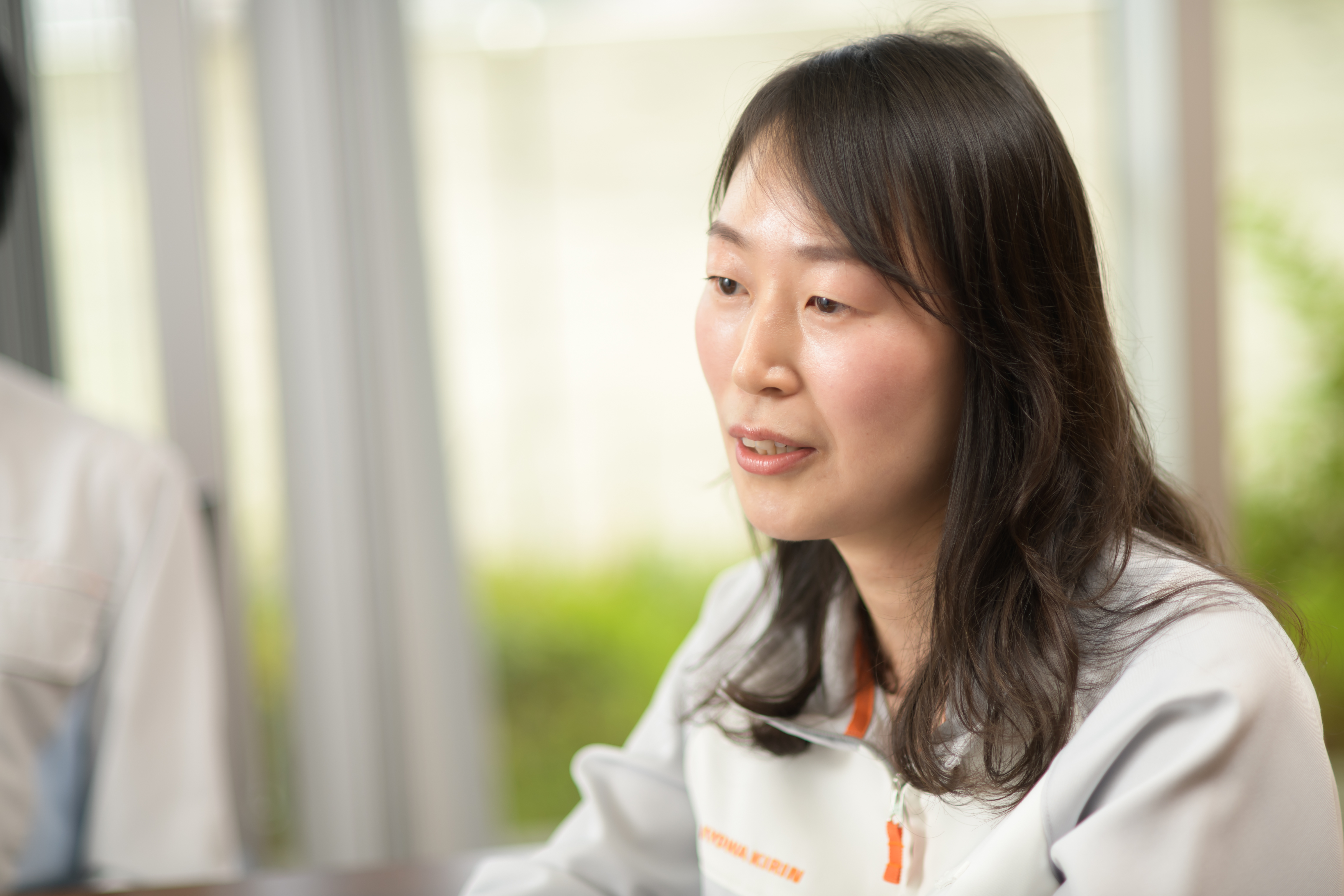 Currently, all four research laboratories or plants across Japan offer several programs on microorganisms, genes, immunity, and drug formulation.
"Here in Machida School, we have programs in five levels to accommodate different ages of children and their understanding. Bio Adventure won the 2016 Minister of Education, Culture, Sports, Science and Technology Award (MEXT Minister Award) in the category of science and technology for its long-term efforts that cater to a wide range of age groups. Here in Machida School alone, we have provided up to 4,800 students since our kick off in 2000."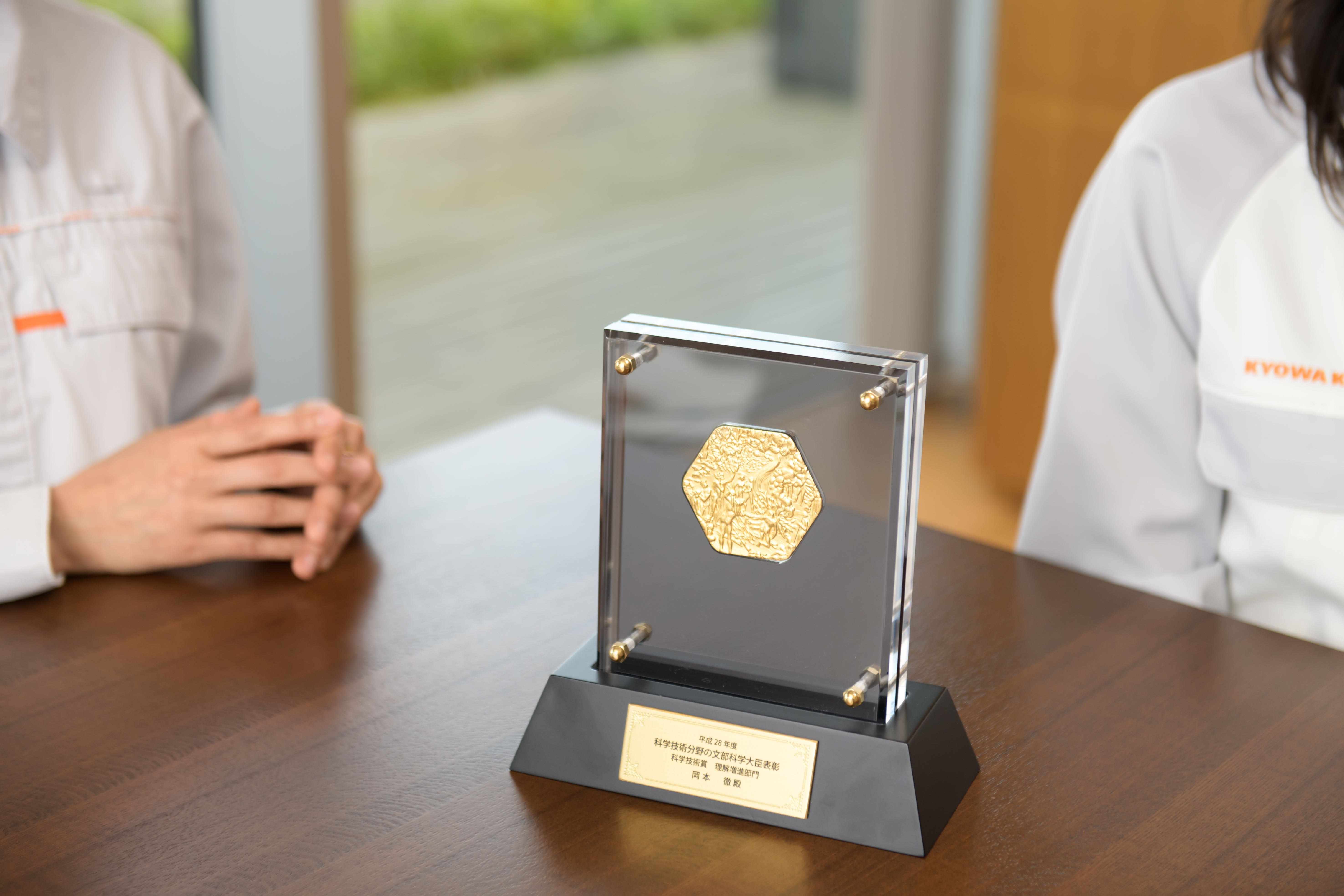 The MEXT Minister Award gave us the chance to let more people know about our program.
Children need to have fun!
The programs we create are very sensory and engaging
The most important thing for us is to make children feel that science is exciting.
"To make the program unique, we developed original teaching materials in collaboration with our researchers. Our active researchers conduct programs that combine experiments and lectures. "
"For example, the antigen-antibody reaction, which occurs when an antigen and an antibody combine to form a specific bond, is difficult to understand just by lectures alone. So, we let them learn about the nature of these reactions using puzzles made of antigen and antibody models that we created ourselves."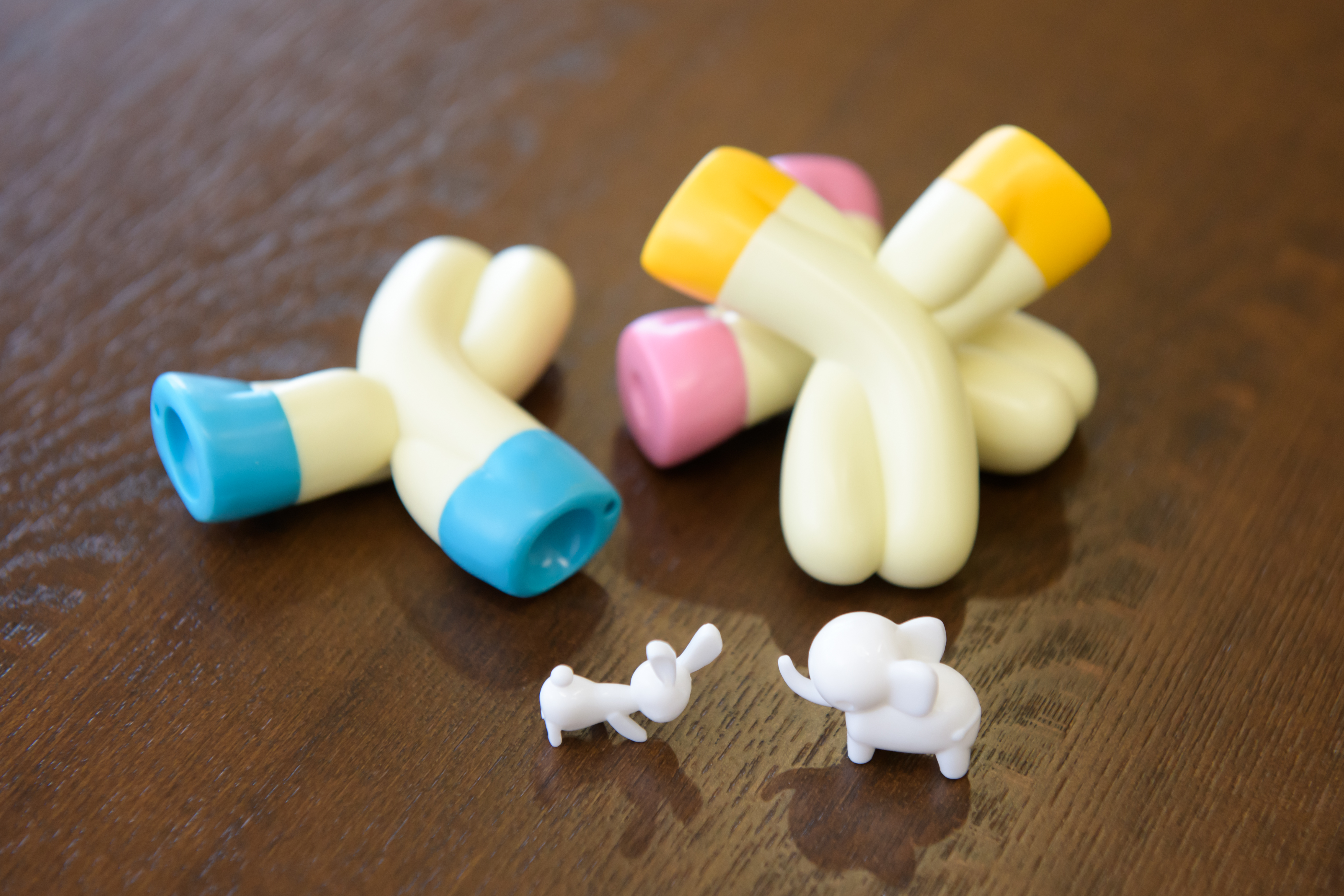 Original "antibodies" teaching materials. Putting these together facilitates to understand how antibodies works.
At the beginning, our aim was to foster future scientists, but now we're also conscious of cultivating a scientific outlook and enhancing science literacy, which can help with making good decisions in a world overflowing with information.
"In 2016, we unified all of our individual youth programs into Bio Adventure, which we now oversee at our head office. The shared textbooks, contents of programs and other information were conducted to improve the quality of each other's work.
Bio Adventure is no longer an in-house activity, we've recently got a request from Tohoku University Science Campus to do programs there. "
Piquing children's interest in science may someday influence their career path
"A grade schooler once said "microbes are dirty" at the start of the program. In the end, the child expressed, "I grew to like fungi because I learned how important they are to us.
"It's at these times that I feel confident. Now that it's easier to buy equipment online, we've also learned that, after joining the activities, some children ask their parents to buy a microscope to use it themselves at home."
This may someday positively influence their career path.
"In the program with high schoolers, the experiments are conducted and analyzed with equipments our researchers actually use. "
"These experiences seem to have a big impact on students. We've received reports from supervising teachers saying that some students have decided on taking up pharmacy after our program."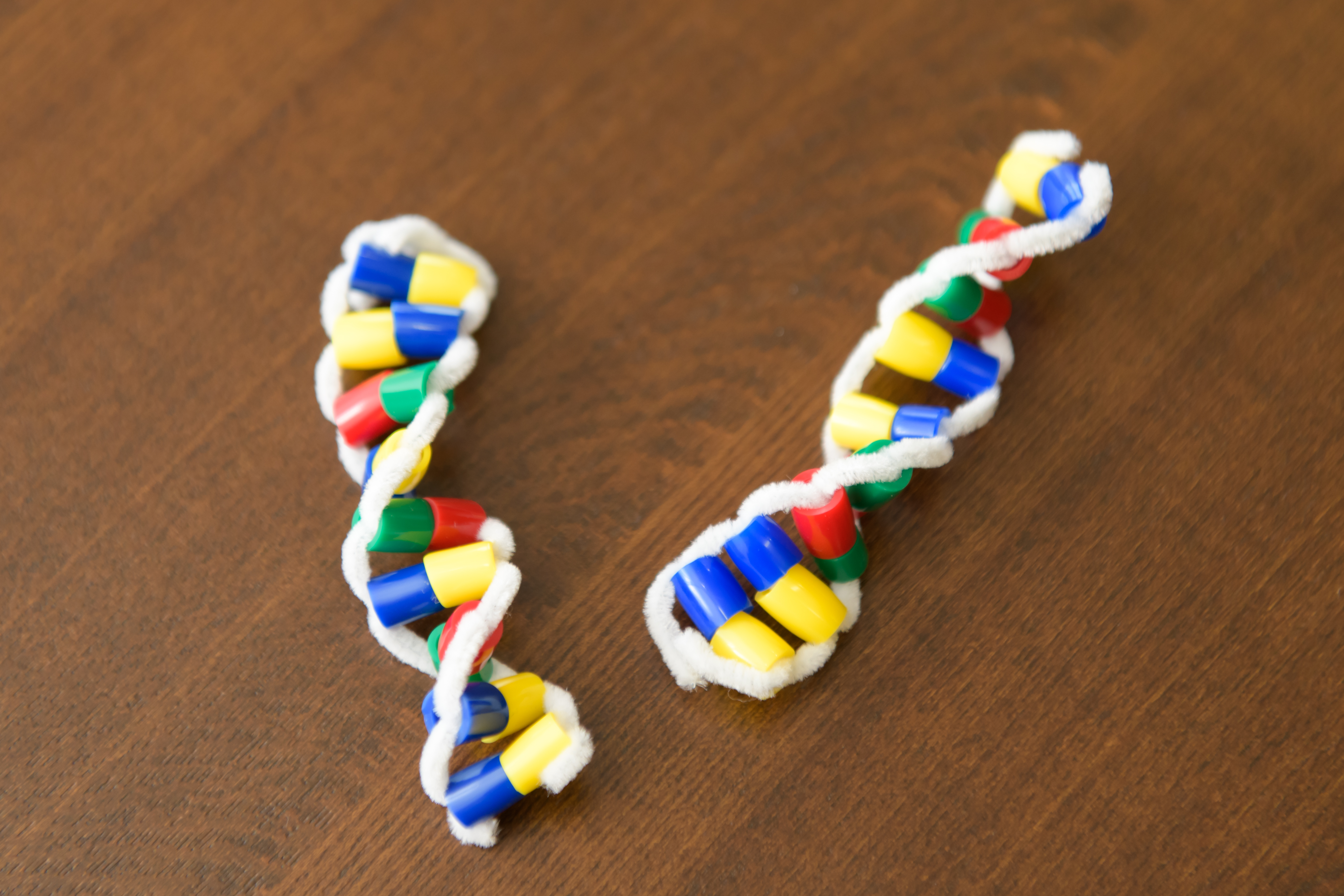 Double helical DNA model made at a DNA crafting workshop. The event is also open to young children, where they learn the DNA structure through crafts using pipe cleaners and insulation tube.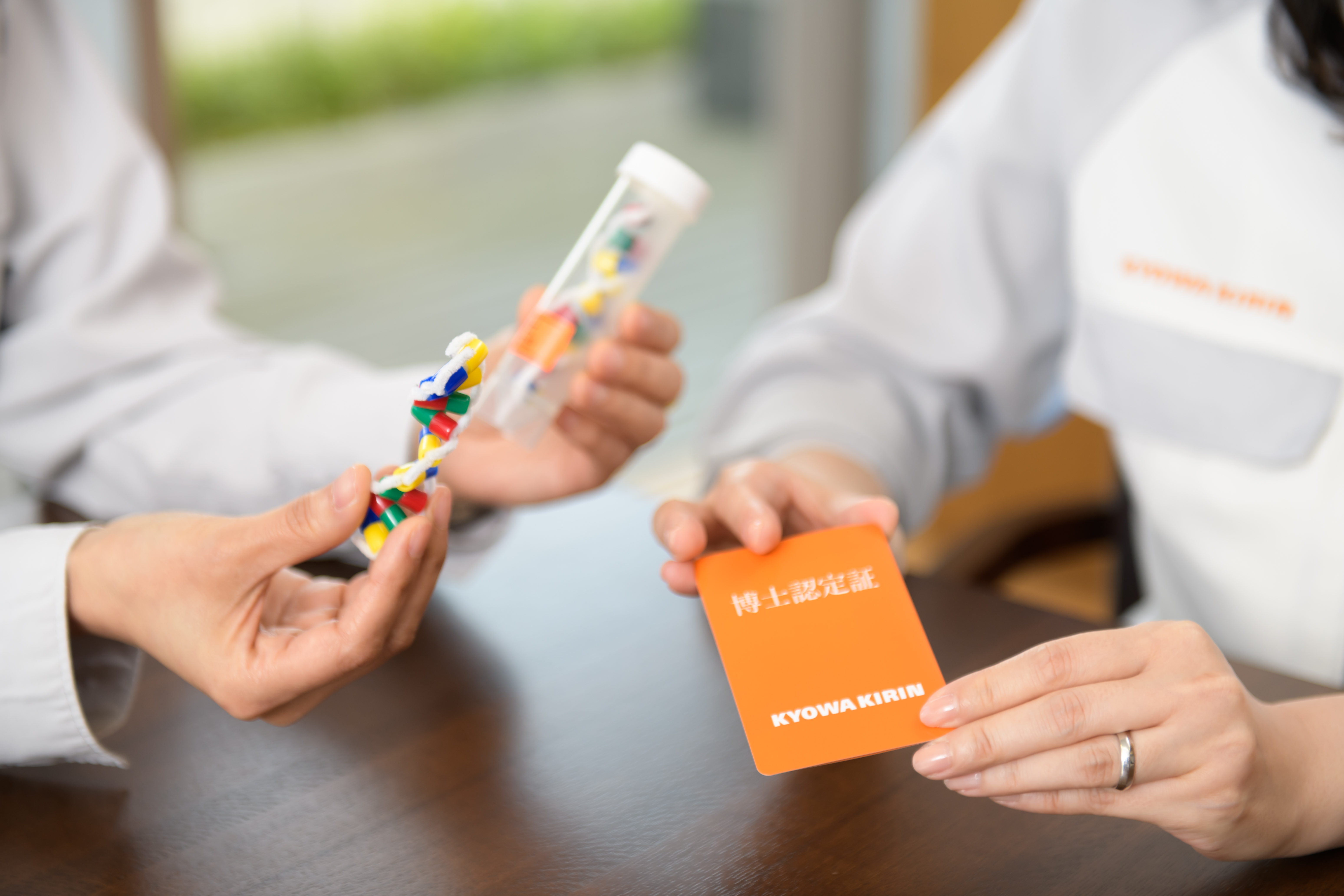 We give the DNA workshop participants a doctoral certificate (card on right) and call them "Dr." before their name. Everybody seems happy when they're called.
Being around children is a source of ideas and innovation for us
At the Tokyo Research Park, more than half of the employees have been involved in the Bio Adventure in various ways.
"Employees not only have fun with the programs, they also give reviews and suggest improvements that we adopt in the manual for next time. The biggest asset that employees get from the program is the opportunity to relive their childhood through the programs. The children's wealth of ideas and pure curiosity in science have been greatly inspiring, and have turned into a source of innovation at work."
I hope to continue with this program, and someday work on research with the children
Kyowa Kirin's primary goal of "fostering the next generation locally" is to make children interested in science.
"Since I started working on this program in 2000, children's enthusiastic eyes always cheered me up. This job is really fun. I'd like them to realize that science is interesting…science is in our everyday life. I want to produce interesting lessons that only Kyowa Kirin can provide, integrating experiments and crafts. I'd like to continue working on this program together with many of our employees, with as much passion and motivation as ever. And someday, I hope to work together with the children on research as well."
We may see the accomplishment of joint research by children and adults in the near future.