The last day of February each year is Rare Disease Day!
Begun in Sweden in 2008, Rare Disease*1 Day (RDD) is observed on the final day of February every year—on the 28th, or 29th in leap years—to coincide with the "rarest day" of the year. The goal of this day is to work towards improving the quality of life of patients suffering from rare diseases through better diagnosis and therapy, and there are many different initiatives run in tandem with it each year.
In recent years RDD events have been held in 100 countries, making it the world's largest public awareness activity for rare diseases. 
Kyowa Kirin's philosophy is to "contribute to the health and well-being of people around the world, and they put focus on patient advocacy (PA)*2 that aims to value patients' own experiences when creating better healthcare and living conditions.
RDD calls for greater support from the patient's perspective so that no one with a rare disease is left behind, and can be seen as a day that embodies PA and Kyowa Kirin's philosophy.  This is why each year in the period surrounding RDD, Kyowa Kirin works to raise awareness in each global region and calls for understanding and support, both within the company and amongst the general public. So what kind of activities were held in North America?
*1 Diseases for which there is little research into therapies and drug development due to the small number of patients and complexity of the disease mechanisms.
*2 The concept of promoting correct understanding of disease and creating better therapies and living conditions through active dialogue and cooperation between patients, doctors and pharmaceutical companies.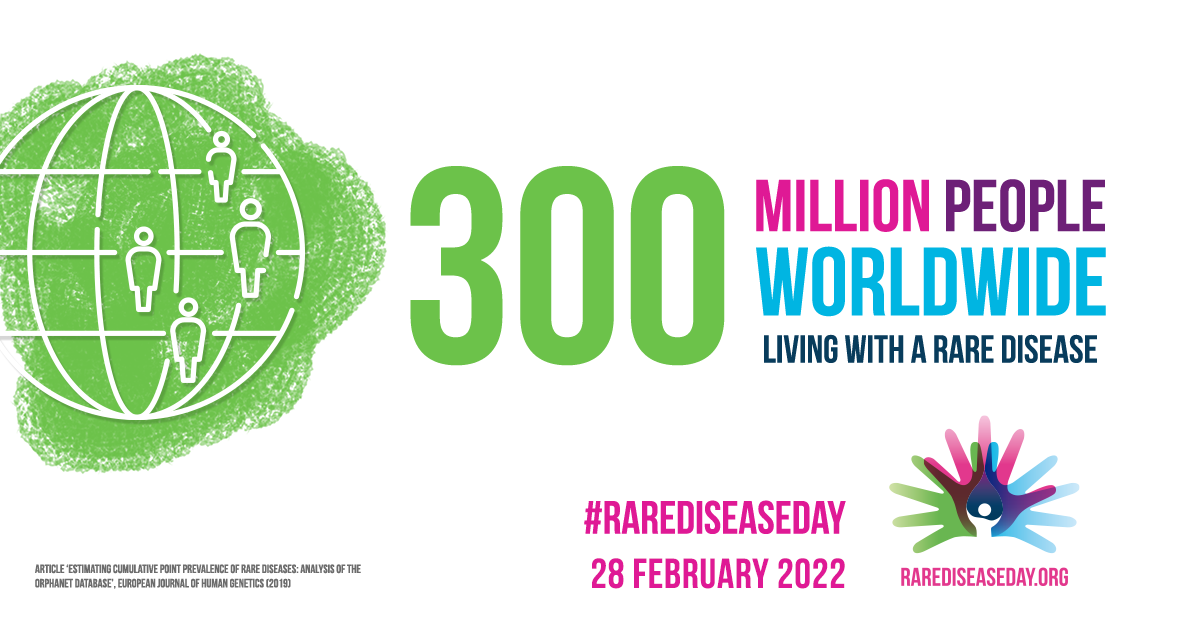 Image:300 million people worldwide living with a rare disease
Supporting NORD, the North American coordinator for RDD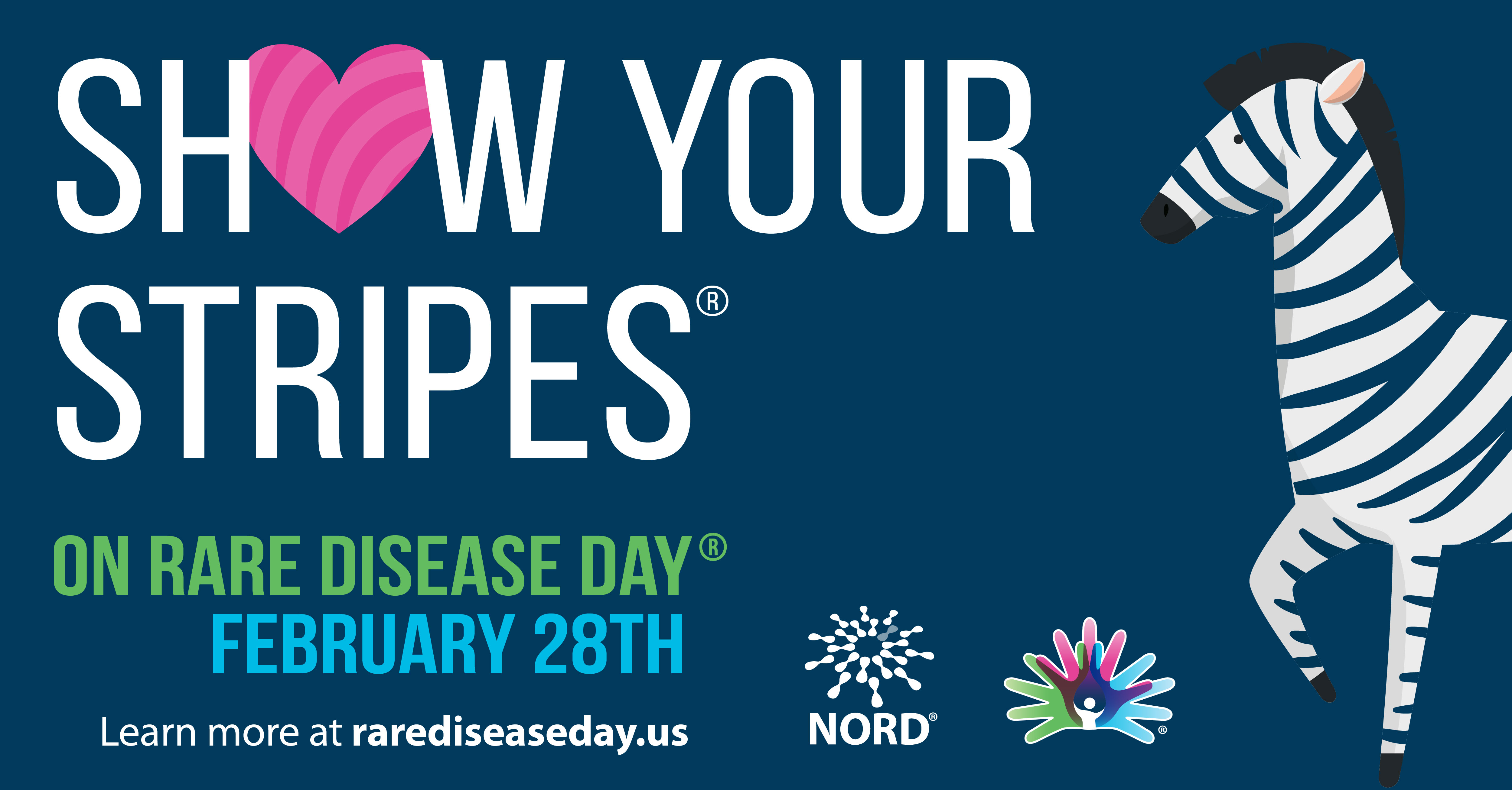 Image: The RDD poster created by NORD for Social media
RDD activities in North America are coordinated by the National Organization for Rare Disorders (NORD). NORD is a non-profit patient advocacy organization that runs programs for research, education, and support for the identification, treatment, and cure of rare diseases, and has worked to raise awareness for over 30 years. Kyowa Kirin North America (North American subsidiary of Kyowa Kirin) is a member of the NORD Corporate Council, and this year worked together with the organization to promote RDD.
Taking part in the #ShowYour Stripes campaign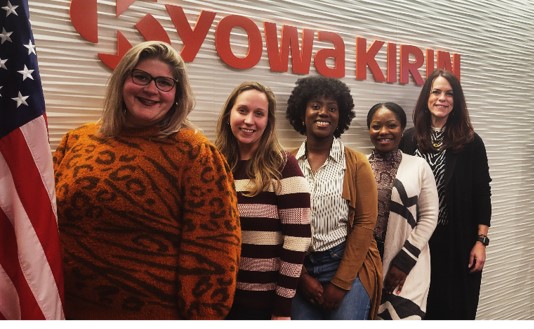 Image: Kyowa Kirin North America Patient Services team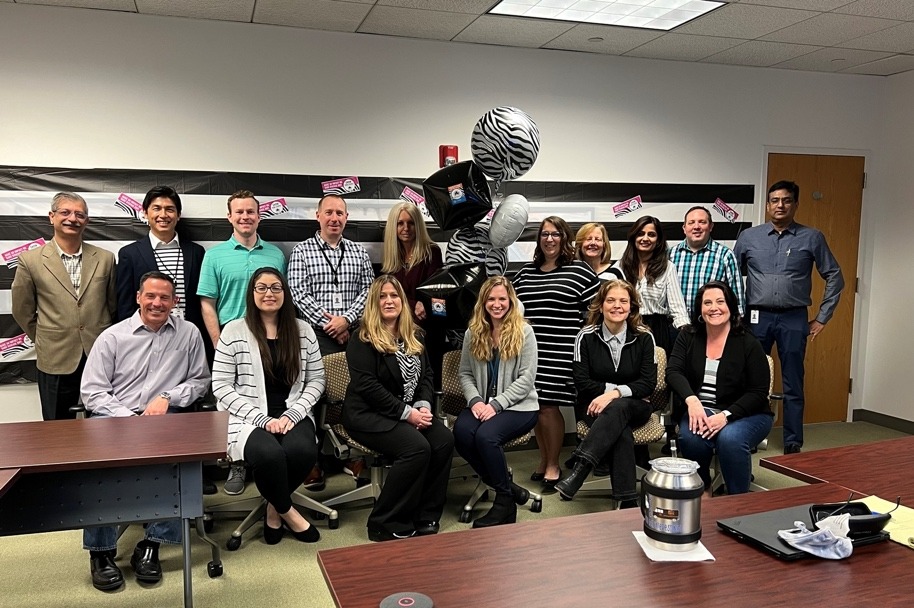 Image: Kyowa Kirin North America Supply Chain Management team
Throughout February, Kyowa Kirin North America shared information about rare diseases and RDD initiatives on LinkedIn and Twitter, and with employees through an email campaign and presentation at a company Town Hall. Employees were also encouraged to join the #ShowYourStripes campaign organized by NORD.
Video: NORD's campaign video for RDD
The zebra is the official symbol of rare diseases in the US, and the #ShowYourStripes campaign was started with the goal of using this classic pattern to inspire dialogue and improve understanding rare diseases. The only requirement is to wear striped clothes or accessories on Rare Disease Day, making it easy for anyone to participate.
But why does the zebra symbolize rare diseases? Medical students are told throughout their training, "When you hear the sound of hooves, think horses, not zebras." This phrase means doctors should assume that the simplest explanation is usually correct to avoid patients being misdiagnosed with rare illnesses. That's why advocates now use the word "zebra" to remind doctors that sometimes the cause is actually a rare condition.
Many employees came to work on Rare Disease Day wearing stripes, and the public affairs team shared their photos in posts on Twitter and LinkedIn. A highlight of the day was a raffle for striped employees, where winners received their choice of RDD-themed items, like T-shirts and baseball caps, from the NORD online store.
We understand how important it is to raise awareness for the millions living with #rarediseases. For 30+ years we've pursued scientific discoveries to help address unmet medical needs. Today our employees join the community to support #ShowyourStripes for #rarediseasaeday pic.twitter.com/tyRq36ngc0

— @KyowaKirin_US (@KyowaKirin_US) February 28, 2022

Twitter: The Kyowa Kirin North America Twitter post was retweeted by NORD and reached over 38,000 followers.

A bold pattern for a better future

Learning more about rare diseases through the company and participating in #ShowYourStripes helped Kyowa Kirin North America employees better understand the challenges faced by community as they shared information with those around them. Looking ahead to 2023, the company plans to continue its support for Rare Disease Day and the rare communities that it serves, including those living with X-linked hypophosphatemia (XLH) and cutaneous T-cell lymphoma (CTCL). We're looking forward to seeing their future developments.

[Related: Celebrating another year of diverse initiatives around the world: RDD 2022 in Japan]

The activities mentioned in the article were conducted in the North American Region under the relevant laws and regulations of each country.