The last day of February each year is Rare Disease Day!
Begun in Sweden in 2008, Rare Disease*1 Day (RDD) is observed on the final day of February every year—on the 28th, or 29th in leap years—to coincide with the "rarest day" of the year. The goal of this day is to work towards improving the quality of life of patients suffering from rare diseases through better diagnosis and therapy, and there are many different initiatives run in tandem with it each year.
In recent years RDD events have been held in 100 countries, making it the world's largest public awareness activity for rare diseases. Japan has participated since 2010, and in 2022 there were over 50 events held throughout the country.
Kyowa Kirin's philosophy is to "contribute to the health and well-being of people around the world, and they put focus on patient advocacy (PA)*2 that aims to value patients' own experiences when creating better healthcare and living conditions.
RDD calls for greater support from the patient's perspective so that no one with a rare disease is left behind, and can be seen as a day that embodies PA and Kyowa Kirin's philosophy.  This is why each year in the period surrounding RDD, Kyowa Kirin works to raise awareness in each global region and calls for understanding and support, both within the company and amongst the general public. So what kind of activities were held in Japan?
*1 Diseases for which there is little research into therapies and drug development due to the small number of patients and complexity of the disease mechanisms.
*2 The concept of promoting correct understanding of disease and creating better therapies and living conditions through active dialogue and cooperation between patients, doctors and pharmaceutical companies.
Kyowa Kirin also supports RDD Japan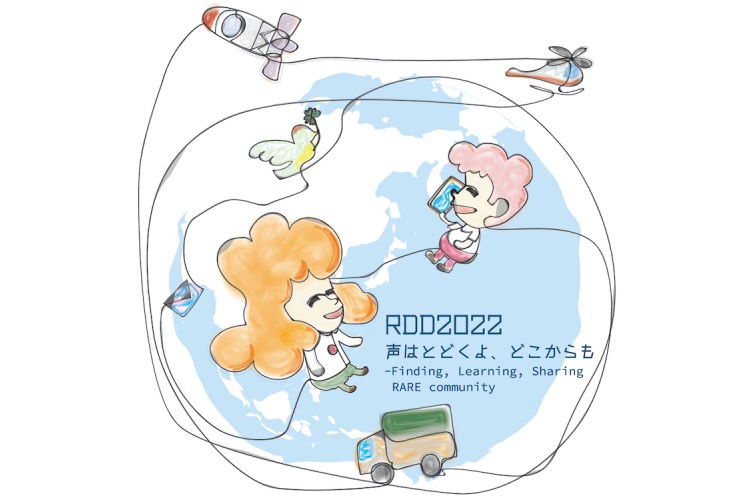 Image: The key visual for RDD Japan 2022 provided by ASrid
For RDD in Japan, a list of activities is compiled on the RDD Japan website. The secretariat office is managed by ASrid, an NPO that works to solve issues surrounding rare diseases.
The aim of RDD Japan is to connect patients of rare diseases and their families with wider society. One thing that makes it unique is the many projects organized throughout the country by diverse stakeholders, including patients and their families, as well as healthcare professionals, pharmaceutical researchers and developers, and members of the general public. At present, RDD Japan is the only such country-wide initiative of its kind in the world.
Kyowa Kirin strongly identifies with this concept and supports RDD Japan. In addition to this initiative, they also work with ASrid in other ways to promote awareness about rare diseases from the perspective of a pharmaceutical company.
They participate in the Strategic Translational Action for Empowering Patients (STEP) community, which was established in December 2021 by ASrid to help share correct information on rare diseases provided by healthcare professionals and companies from multiple angles. Together they have created a system that can offer reliable answers to questions from patients, their families and other stakeholders.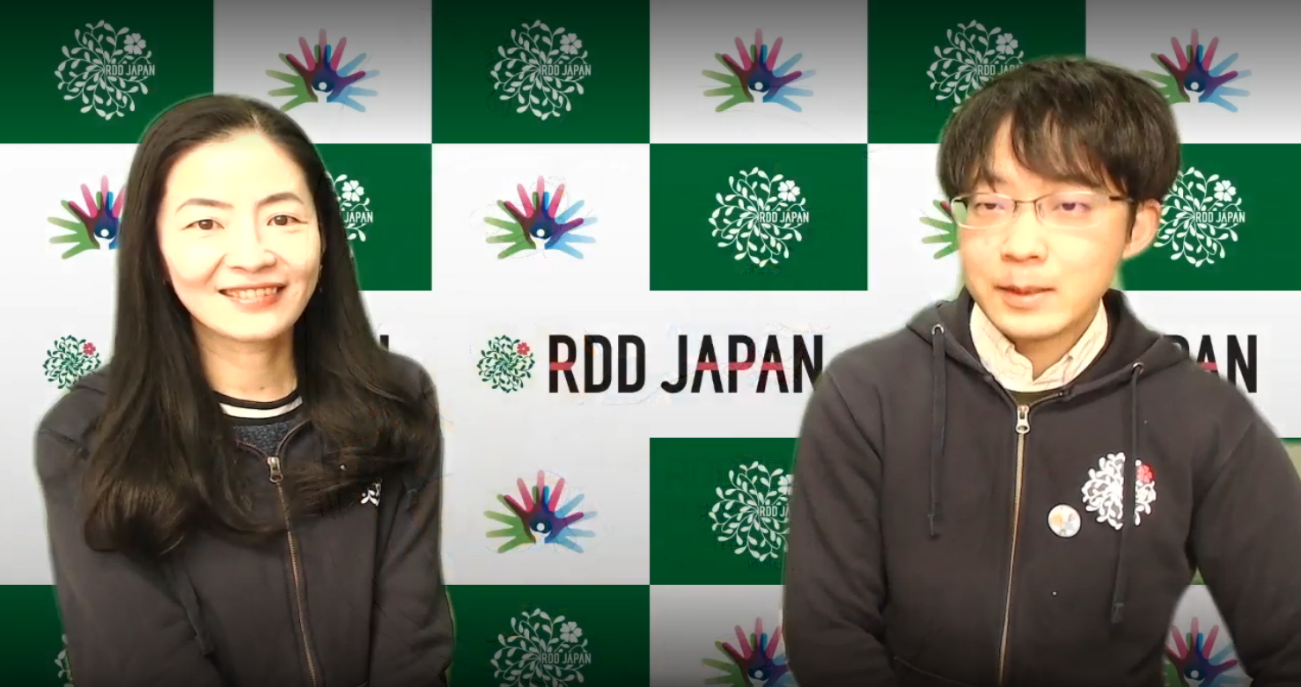 Image: A video message to Kyowa Kirin from ASrid's Yukiko Nishimura and Shun Emoto
Give it a try: New activities to raise awareness within the company
The RDD 2022 awareness campaign within Kyowa Kirin was led by the Corporate Communications Department's Patient Advocacy  Team, and employees were encouraged to take part using the company social intranet.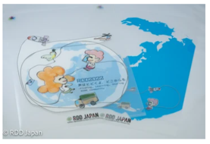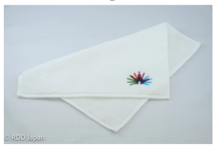 Image: The first employees to post about Rare Disease Day on the company social intranet received RDD-themed gifts. A portion of the sales proceeds from these items are donated to RDD-related causes
What really boosted RDD-related posts on the intranet was the Yatte Mita ("I gave it a try") activity series, which had two major types of challenges.
The first challenge: Radio exercises
Radio exercises are calisthenics warm-ups performed to music and verbal guidance that is traditionally broadcast on the radio in Japan. This kind of moderate exercise is recommended for those suffering from psoriasis—a type of which has been designated as an official intractable disease in Japan—as it has been found to be connected to metabolic syndrome.*3, 4 On Kyowa Kirin's website for psoriasis patients, SORA – Positive Living With Psoriasis, they provide a "Let's do radio exercises with table tennis players!" guidance video featuring members of the Kyowa Kirin table tennis team.
For this challenge, Kyowa Kirin employees gave radio exercises a try. Colleagues at sales offices and workplaces around Japan watched the table tennis club's video and performed radio exercises together, which also helped build a sense of unity from afar. They then posted the photos or videos they had taken one after another, creating a series on the company social intranet.
社員参加企画②「やってみた(運動)」
当社社員が、乾癬患者さん向けサイト「SORA」に掲載の「ラジオ体操」を実際に行い、その様子を動画や写真で投稿してくれました。
参加者からは「しっかりやるといい運動になりますね」との声もありました!https://t.co/IrSyW0RFkj#RDD #rarediseaseday2022 pic.twitter.com/xtOH7z9Jaf

— 協和キリン (@KyowaKirin_JP) March 20, 2022
The Patient Advocacy Team said that the key was always leaving a comment about RDD when colleagues posted. "Doing this encouraged everyone to think about RDD together and try to empathize with patients after 'giving it a try' themselves. Then more employees started commenting with their own thoughts about it."
The second challenge: Recipes created for patients
The second activity for employees was trying recipes from the SORA – Positive Living With Psoriasis website, and then posting about it.
They tried making recipes like chicken and corn one-pot rice or tofu matcha pudding that have been created for people with metabolic syndrome, which has been found to be connected to psoriasis.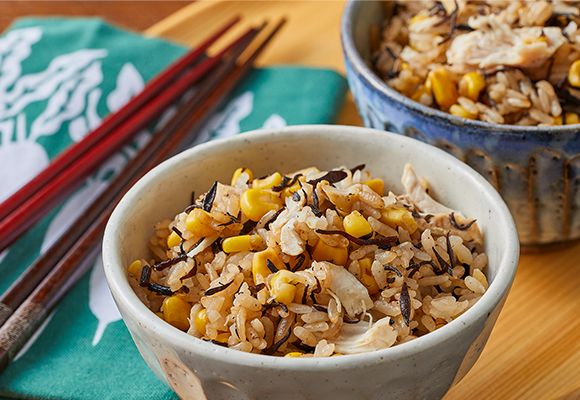 The chicken and corn one-pot rice recipe from the SORA – Positive Living With Psoriasis website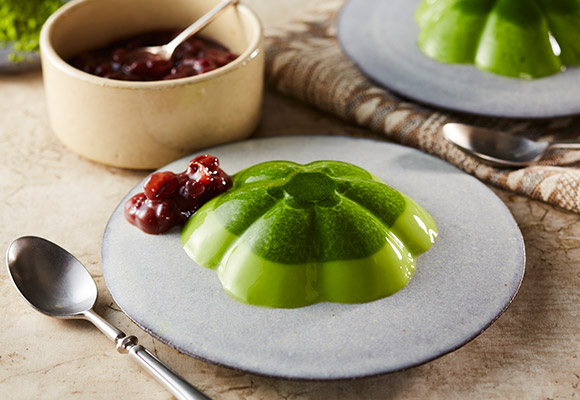 The tofu matcha pudding recipe from the SORA – Positive Living With Psoriasis website
One employee commented, "Cooking the recipes helped me understand what patients eat, and it made me feel a little closer to them." Colleagues from a department that creates informative materials for patients suffering from different diseases responded, "We strive to create meals that people can enjoy and feel positive about," and "When designing recipes, I come up with different ways to create dishes that patients feel like they want to try."
社員参加企画①「やってみた(料理)」
当社の疾患情報サイトのレシピを従業員が実際に作り、その様子を社内SNSに投稿するイベントです。
普段料理をしない社員も「美味しく作れた!」と好評で、健康に配慮した料理も簡単に作れることが実感できました。#RDD #rarediseaseday2022 pic.twitter.com/76FoXy7Jrl

— 協和キリン (@KyowaKirin_JP) March 19, 2022
Some of the many dishes Kyowa Kirin employees made (from the Kyowa Kirin official Twitter account)
Members ofthe Patient Advocacy Team smiled as they told us, "There were actually many more comments than I'd expected. As employees broadened their worldview, there were more comments about reflecting on their own work and thinking about how patients live."
※3 J Eur Acad Dermatol Venereol. 2022 Jun;36(6):797-806.
Psoriasis (Auckl). 2022 Jul 2;12:189-197.
Masutaka Furue and Mamitaro Ohtsuki, "Koko made wakatta – Kansen no byotai to chiryo (Hifuka rinsho asseto)" [Unofficial translation: What we know about the pathology and treatment of psoriasis (Dermatology clinical assets)] (Nakayama Shoten, 2012)
*4 This is not a statement on the relation between designated intractable disease generalized pustular psoriasis (GPP) and metabolic syndrome.
Understanding patients' perspectives to provide better support
For RDD 2022 at Kyowa Kirin, employees weren't able to physically meet because of the COVID-19 pandemic. Yet reflecting on this year's results, the Patient Advocacy Team said, "These activities allowed employees from all over Japan to connect and reflect on RDD together. In the around one month that we ran the campaign, 185 colleagues posted about exercising and recipes, increasing the number of people who became interested." They are now thinking about a plan for next year's event to encourage even greater participation.
Kyowa Kirin values addressing patient-centric healthcare needs, and considering the patient's perspective is essential in this. Rather than simply learning more about rare diseases, the act of trying out the same exercises and recipes that patients use gave each employee the opportunity to think about patients' daily lives. Employees will apply what they've learned in their own work while striving to further support patients of rare diseases. Now the future is looking bright.