The last day of February each year is Rare Disease Day!
Begun in Sweden in 2008, Rare Disease*1 Day (RDD) is observed on the final day of February every year—on the 28th, or 29th in leap years—to coincide with the "rarest day" of the year. The goal of this day is to work towards improving the quality of life of patients suffering from rare diseases through better diagnosis and therapy, and there are many different initiatives run in tandem with it each year.
In recent years RDD events have been held in 100 countries, making it the world's largest public awareness activity for rare diseases. 
Kyowa Kirin's philosophy is to "contribute to the health and well-being of people around the world, and they put focus on patient advocacy (PA)*2 that aims to value patients' own experiences when creating better healthcare and living conditions.
RDD calls for greater support from the patient's perspective so that no one with a rare disease is left behind, and can be seen as a day that embodies PA and Kyowa Kirin's philosophy.  This is why each year in the period surrounding RDD, Kyowa Kirin works to raise awareness in each global region and calls for understanding and support, both within the company and amongst the general public. So what kind of activities were held in Asia Pacific?
*1 Diseases for which there is little research into therapies and drug development due to the small number of patients and complexity of the disease mechanisms.
*2 The concept of promoting correct understanding of a disease and creating better therapies and living conditions through active dialogue and cooperation between patients, doctors and pharmaceutical companies.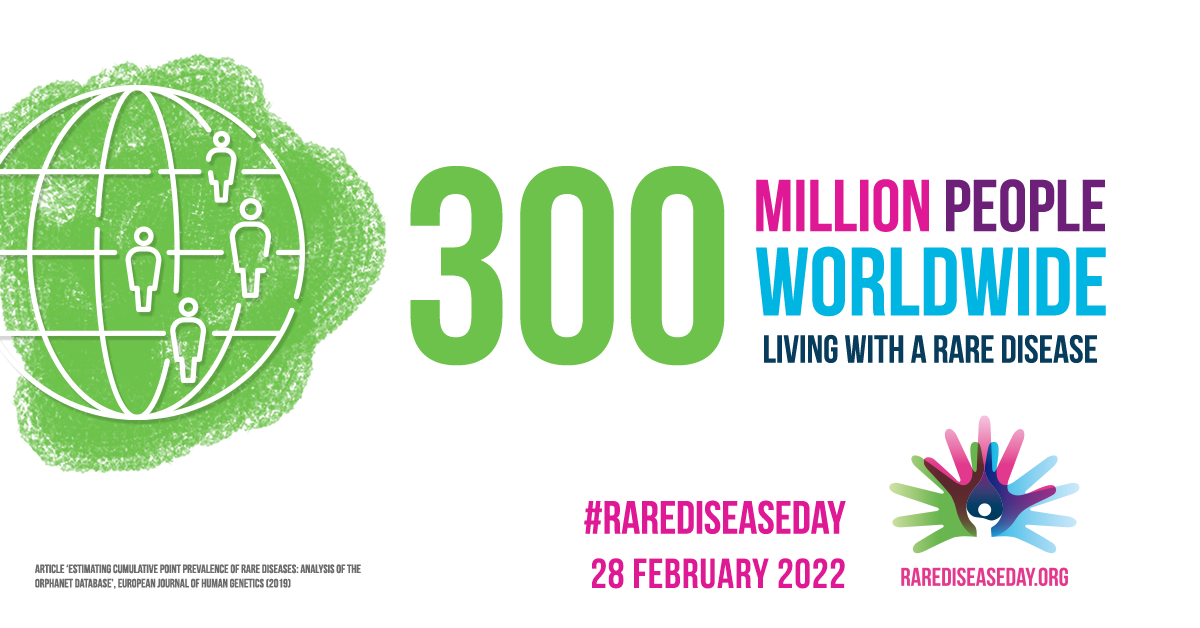 Image:300 million people worldwide living with a rare disease
Increasing understanding of patients and caregivers' experiences with XLH in Australia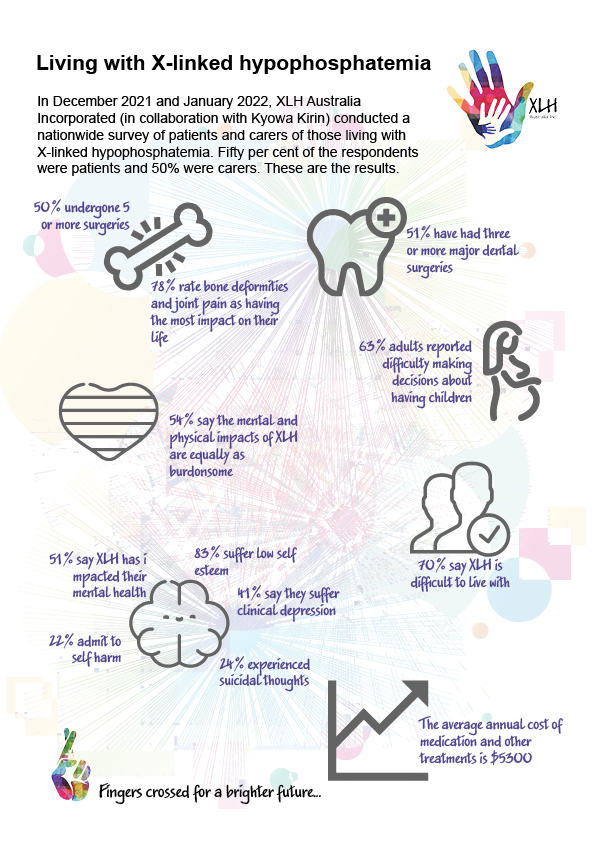 Image: The results of the survey
Kyowa Kirin Australia teamed up with X-linked hypophosphatemia (XLH) patient support group XLH Australia (XLHA) to conduct the first-ever local survey of patients and their families about the physical, mental, social and economic impacts of living with the disease. The survey revealed that 51% of patients feel that their mental health has been affected, while 83% struggle with low self-esteem. The results are providing more people with the opportunity to better understand what it's like to live with XLH.
Joining a movement to support local rare disease communities
In February of this year, Kyowa Kirin Asia Pacific Pte.Ltd. took part in the Carry Hope Challenge 2022 organized by the Rare Disorders Society (Singapore), or RDSS. The challenge aims to spread awareness about rare diseases and raise funds to support patients' home-based learning and therapy. Participants carry a plush toy of RDSS's sloth mascot "Hope" on a 7.7km walk, run or cycle, then share their adventure with others through social media. According to the RDSS website, physically carrying the stuffed sloths to different locations is akin to carrying the beneficiaries' hopes on their behalf and spreading their hopes to as many places as possible.
More than 20 Kyowa Kirin employees from Singapore, Japan, Malaysia and Australia joined the challenge, with the company supporting their participation with a matching donation. Afterwards, photos and videos of the event were shared on the company social intranet, LinkedIn and other social media. Participants were motivated by the opportunity to not only raise awareness but also support patients themselves.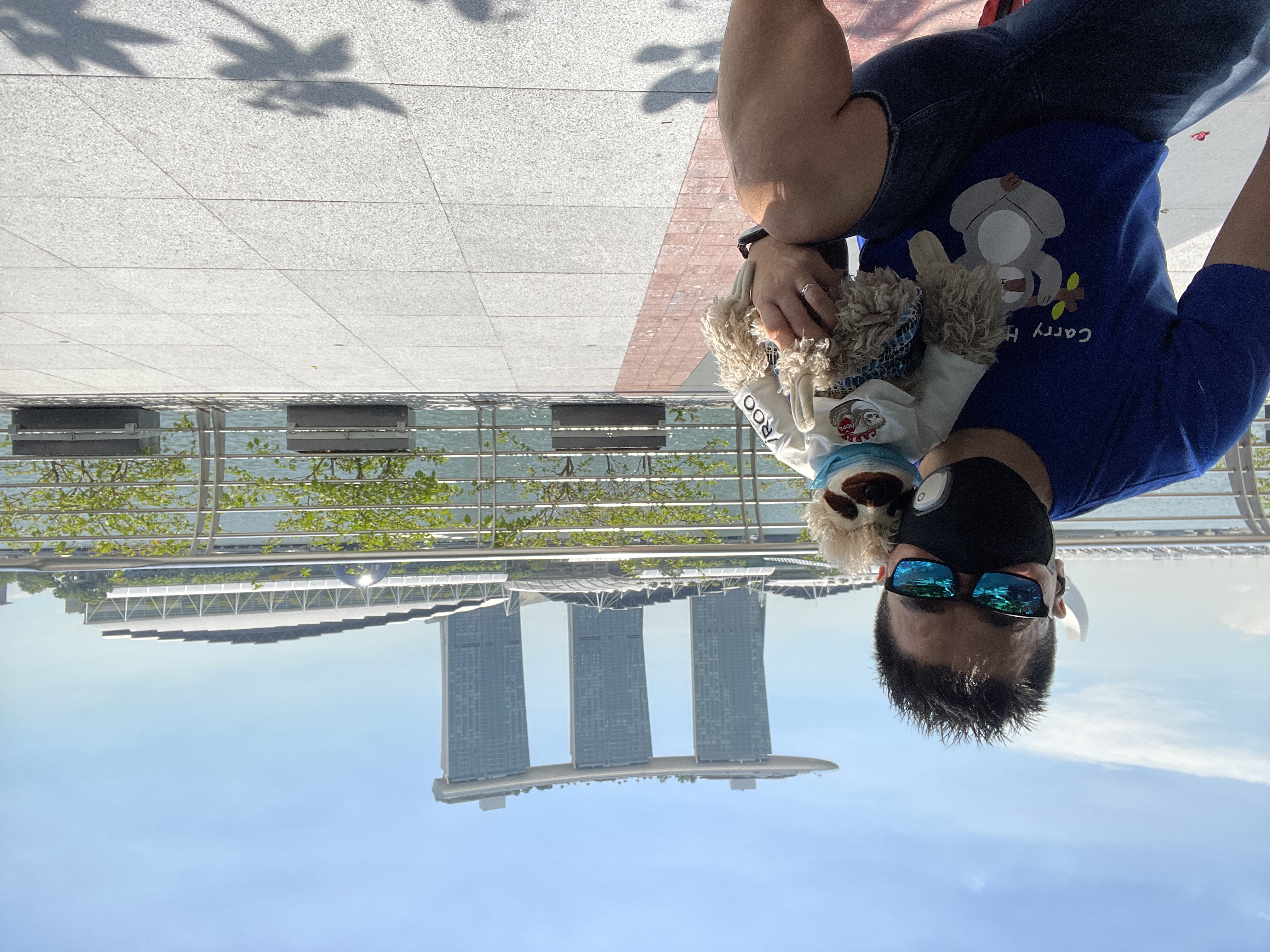 Image: In front of Singapore's iconic Marina Bay Sands hotel.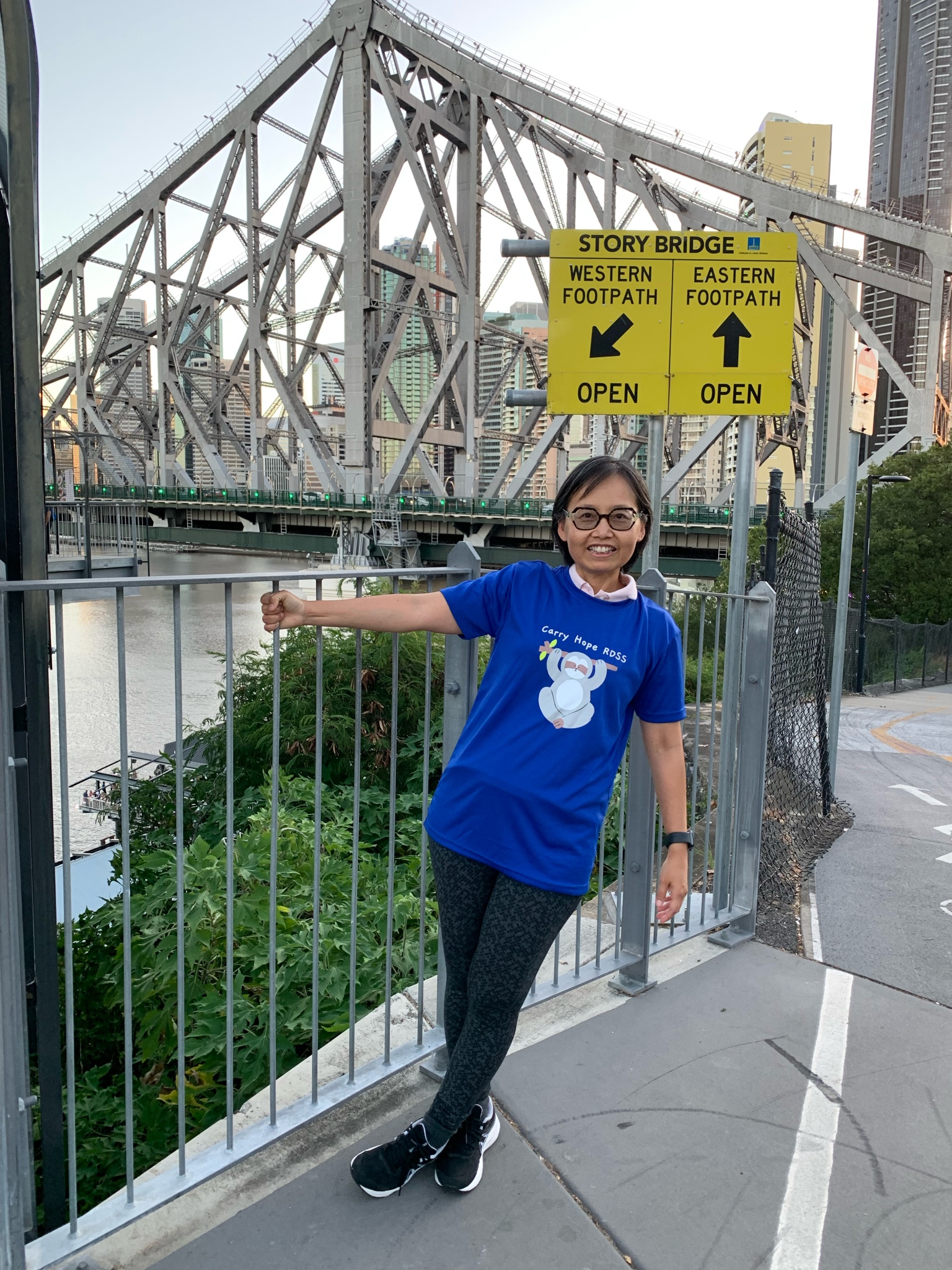 Image: On the Story Bridge in Brisbane, Australia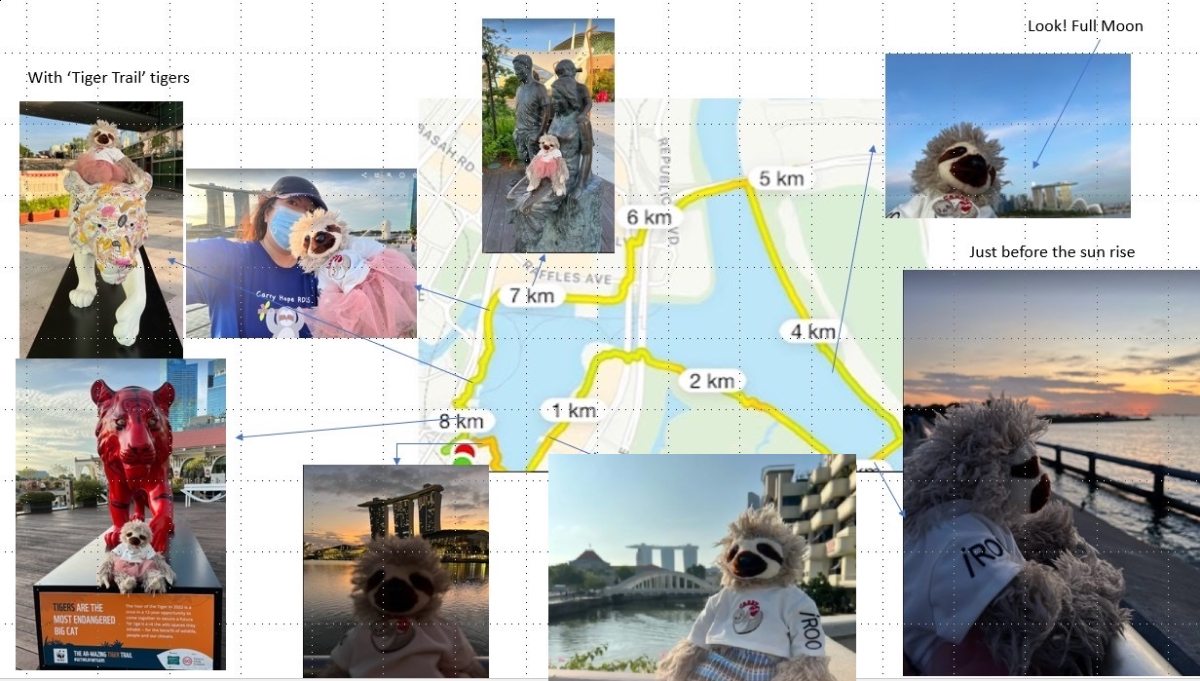 Image: One colleague even made a photo diary of their trip around Singapore.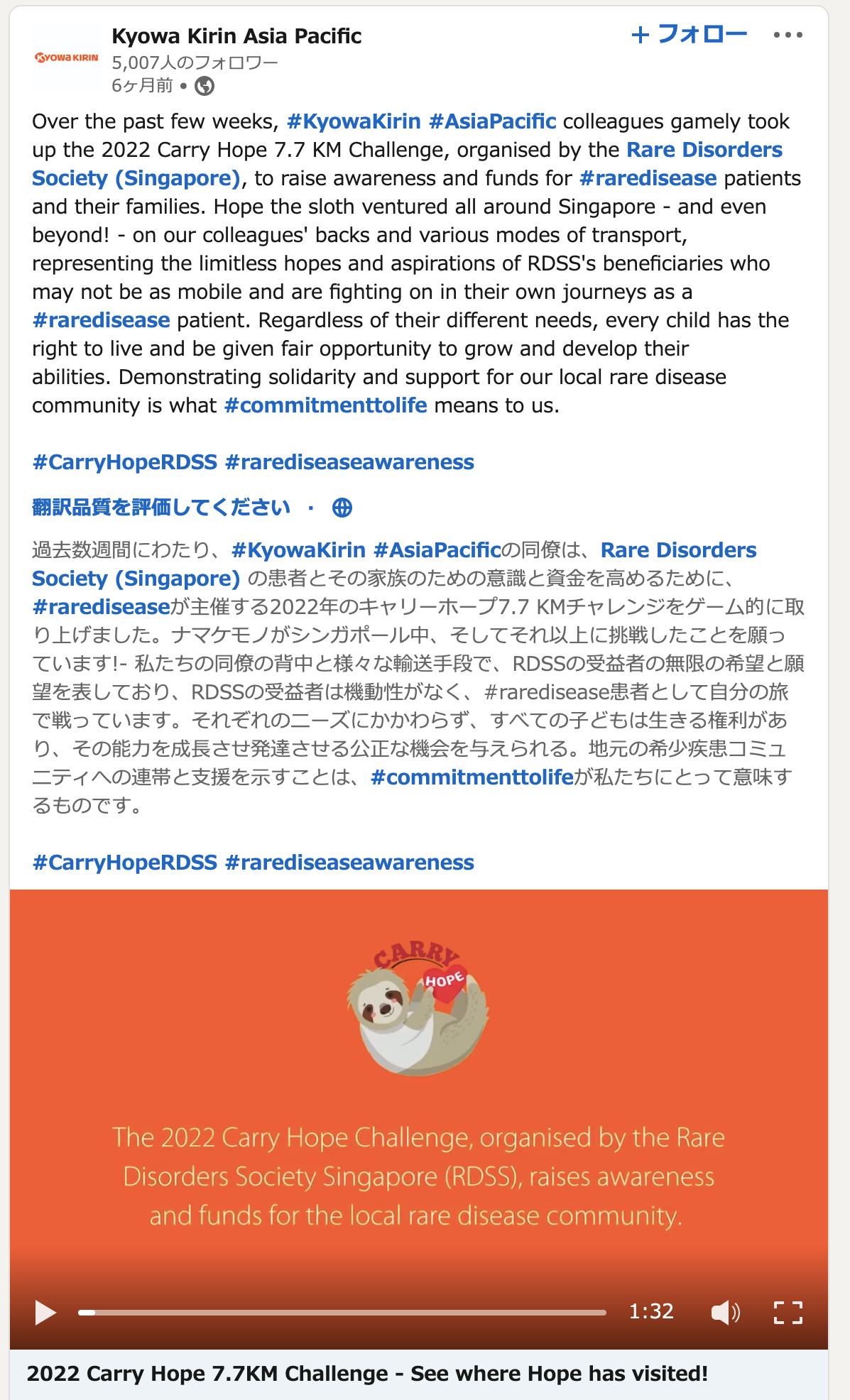 Our LinkedIn post about the challenge has received more than 1,200 unique impressions.
Ensuring the focus remains on patients
Kyowa Kirin Asia Pacific Pte.Ltd. listened to the voices of patients and sought to participate in initiatives that provide them with direct support. They'll now take the lessons they've learned and apply them to help better address patient-centric healthcare needs in the future.
[Related: Celebrating another year of diverse initiatives around the world: RDD 2022 in Japan]
The activities mentioned in the article were conducted in the Asia Pacific Region under the relevant laws and regulations of each country.